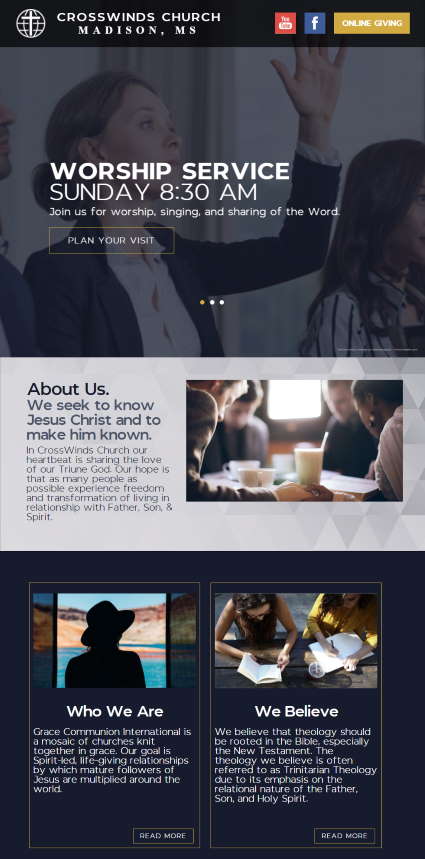 Based on our previous microsite hosting option, we've created a brand new GCI microsite that is fully usable on creation. What does that mean? We use your church information from our online system to create a page that is pre-populated with general information that applies the most GCI churches in the United States. It uses the GCI globe logo with your church name and location in the site header. There are rotating banners for your worship service, contact information and church information. The page is divided into sections:
Banners
About Us, a brief statement of what your church is about, it's "focus" if you will.
Feature Blocks. You can currently edit the first two blocks–"Who We are", a more in-depth description of the church and/or denomination and "What We Believe", a brief overview of GCI's beliefs. The third block currently pulls the most recent Speaking of Life episode.
Plan Your Visit, describing what people would find if they visited your church with the address and a map.
Contact Us, with the pastor or contact person's name, phone, email and photo plus an online form that sends an email.
You can see a sample of the current development version at micro.gci.church/crosswinds.
The live URL for a church will be gci.church/___ where the blank is something unique, usually a short word from the church name or the city where the church is, like gci.church/hickory for Grace Communion Hickory.
We do have future plans for this template-driven website, which will most likely include events and audio and/or video sermons, and perhaps multi-page content. There is no current timeline for these improvements. Of course, we welcome comments and suggestions. You can email them to GCI Technical Support.
We will be migrating existing microsites to the new version over the next 6 months.
If you find your church is interested in setting up a microsite website, or migrating sooner, please email GCI Technical Support and we'll help you get started. It will help to have your church name and location so we can look the church up in our online system to get it started.